Pre-University Science with Animal Anatomy and Physiology (Level 5)
This course gives students a broad base in Science with a wide range of modules covered. It includes Animal Anatomy and Physiology for those students who may be interested in applying to Veterinary Nursing.   
Duration
One year, full-time
Modules
Animal Anatomy and Physiology 5N0750
Biology 5N2746
Chemistry 5N2747
Laboratory Skills 5N2751
Mathematics 5N1833
Physics 5N1460
Communications 5N0690
Word Processing 5N1358
Work Experience 5N1356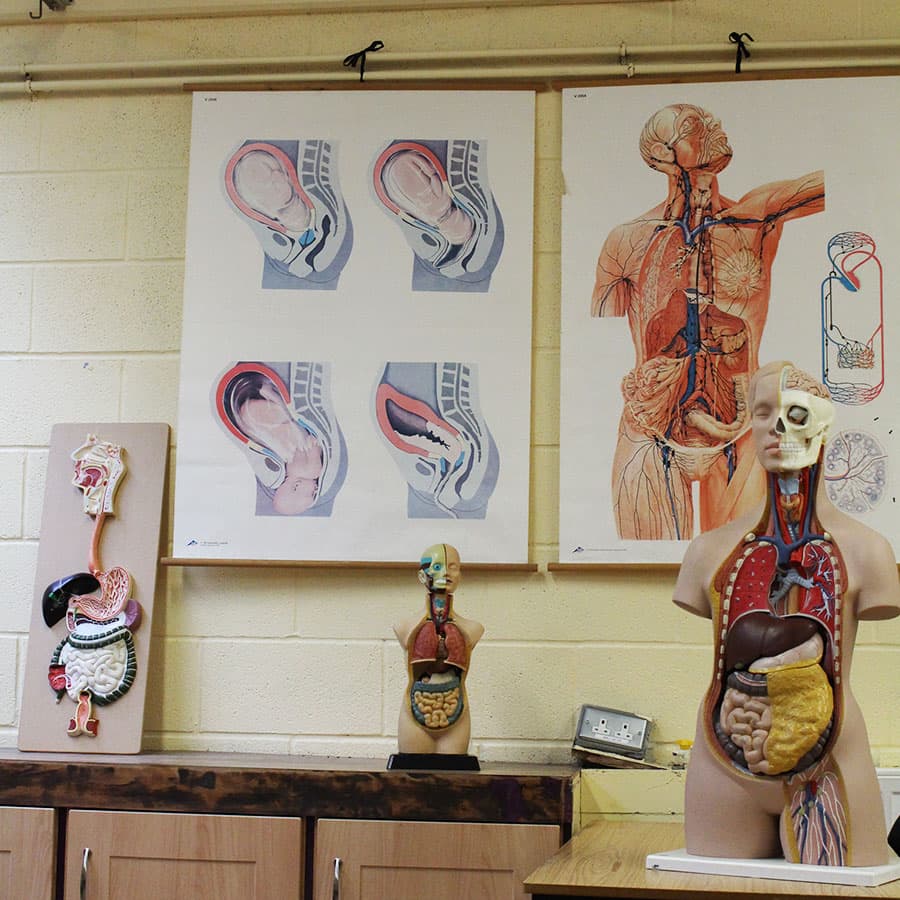 Certification
NFQ Level 5 award made by QQI 5M3807 Laboratory Techniques
Career Options
Students may wish to progress to Science courses at Third Level, including Veterinary Nursing in UCD or seek employment in Science related areas. 
Third Level Progression
Pre University Science is one of the most widely recognised QQI awards as it links into nearly all Science courses in all Higher Education Institutions in Ireland through CAO.
Trinity College accept this course for entry into Biological and Biomedical Sciences TR060, Chemical Sciences TR061, Physical Sciences TR063 and Geography and Geological Sciences TR062.

UCD allow progression into Science DN200, Veterinary Nursing DN310 and Food Science DN261.

TU Dublin- City Centre Campus accept this award for over 20 of its degrees including Science TU755, Clinical Measurement TU868, Physics with Energy and Environment TU878 and Science with Nanotechnology TU855.
TU Dublin- Tallaght accept this award for ALL science related degrees including DNA and Forensic Analysis TU752 and Pharmaceutical Science TU763
Maynooth University allows progression to a wide range of degrees including Science MH201, Biotechnology MH202 and Biological and Biomedical Sciences MH208.
DCU accepts this award into a significant number of degrees including Science Education DC203, Analytical Science DC161, Genetics and Cell Biology DC168 and Chemical Sciences DC163.
Entry Requirements
Leaving Certificate, Leaving Certificate Applied Programme, QQI Level 4 full major award or equivalent.

Work/life experience may be acceptable for mature students.

Students should be 16 years old or over at the start of the course.

Aptitude: Applicants must have a motivation to learn, an interest in the subject area and the ability to acquire the knowledge, skills and competencies set out in the course.

Competent written and spoken English (CEFR B1 or higher).
Fees
For details on our fees, please click here

I heard about this college through my secondary school and applied as a second option in case I didn't get University. I did this course to allow me progress into Veterinary Nursing in UCD.I found the facilities the teacher and the college offered was very helpful and made the year a better one for everyone. I received a laptop to help me do my assignments. The teachers also offered extra classes to give us feedback and advise that brought up the standard of our work.
Antonia Mulraney (Class of 2021).