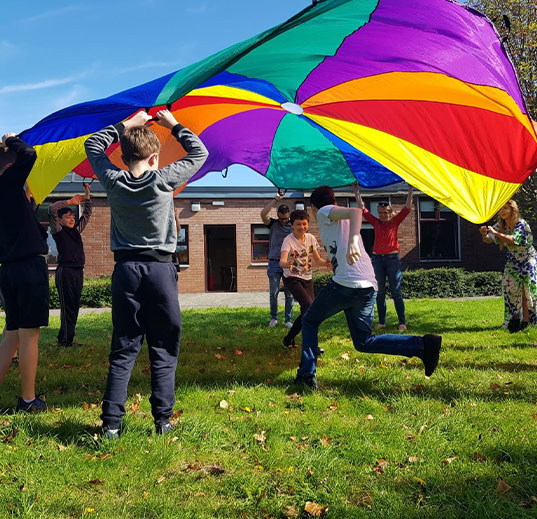 The School Completion Programme (SCP) is a programme that supports young people who may potentially be at risk of early school leaving or who are out of school. SCP is funded by Tusla Education Services and supported under the Delivering Equality of Opportunity in Schools (DEIS) Programme. Its aim is to support students to completion of the leaving certificate, and equivalent qualification or to achieve a suitable level of educational attainment which enables them to transition into further education, training, or employment.
The SCP is one of three strands of Tusla Education Support Service (tess) including the Home School Community Liaison (HSCL) Scheme and the Educational Welfare Service. All three strands share the same national outcomes:
Improved Attendance
Improved Participation
Improved Retention
Who is the SCP For?
The SCP Programme is a programme to support young people who are at risk of early school leaving and students at school going age who are not currently attending school.
SCP at Greenhills Community College
The School Completion Programme running in Greenhills Community College has a wide range of projects running during school and after school. These include:
After School Programmes e.g. Guitar Club
In-school supports, breakfast club, cooking club
Holiday Supports
Summer programmes
Transition Programme for 1st Years
Mentoring Programme
Friendship First Anti Bullying Programme
Art Therapy
Needs Based One-to-One and Small Group Support
Out of School Supports
Our SCP staff work closely with families and young people to identify and meet the needs required for the young person to re-engage with school. The team works closely with the Education Welfare Officer and the Home School Community Liaison to meet the needs of out of school students or students with school refusal behaviour.
SCP also work closely with school care teams and management to advocate and support young people with positive and successful re-engagement to school.
Greenhills School Completion Programme Co-ordinator: Eleanor McWey, Phone Number: 087 622 9020, Email: eleanor.mcwey@scp.ie